Unlock yourself and
Unleash your potential!
Unlock yourself and Unleash your potential!
We are providing assisted stretching that will help you reach your optimum level of performance, releasing any tight muscles in your body, and improving your posture, mobility, range of motion and blood circulation.
We help detect muscle strength and weaknesses and include different techniques such as shaking, moving, and stretching. We also include PNF (Proprioceptive Neuromuscular Facilitation) in our stretch sessions.
PNF is a technique used to activate weak muscles, or it can help to switch off muscles that have been compensating for other muscles.
It is one of the most effective forms of stretching to improve flexibility and increase range of motion.
Reach your optimum level in training
Joshua is a passionate sports person who has been playing sports for more than a decade and has trained as a national athlete representing Singapore's Floorball team for 6 years. He is silver medalist in the 2019 SEA Games for the national floorball team and MVP for the World Floorball Championship Qualifiers in 2018 for Singapore. He is also passionate in football, basketball and many other sports. Joshua has been helping clients with improving their posture and mobility to help them reach an optimum level of performance through assisted stretch. He is a certified stretch trainer with Level 1 and Level 2 stretching certificate. He aims to help people improve their posture and create a new habit for them to start inputting stretching in their lifestyle.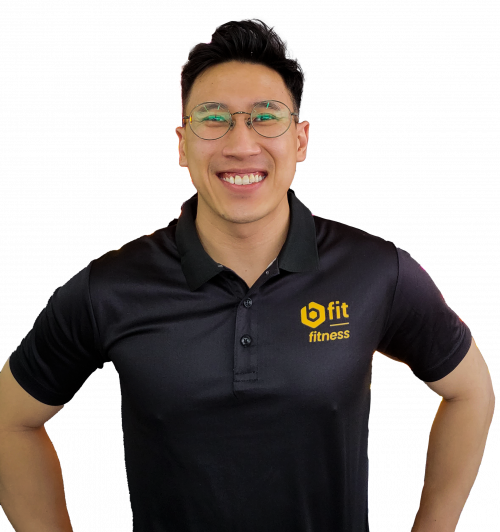 SIGN UP FOR A FREE CONSULT NOW.
naomi mascarenhas
2022-10-12
I have trained with Jay since late feb! When I first started I was extremely weak in my knees and ankles and could barely lift any weights. Jay has taught me how to safely train to strengthen my knees and other joints where I felt a lot of pain. The reason I am able to walk around with no pain is because of the training and support I received from BFIT. I really would recommend it for anyone looking to heal injuries or simply stay fit!
Shafiq was amazing, completely loosened out my spine by cracking it
Jay , Neha & Bali we're very entertaining and did an excellent job on my stiff back , neck & hamstring
Joshua, amazing experience..thanks a lot
Excellent
Review for Jay - coach/Trainer: I started training with Jay in August 2021 due to long-standing pain and injuries. I am pleased to say that over just 12 weeks (2 to 3 sessions per week) my overall fitness improved massively. This has had a positive knock-on effect. I didn't think I'd get to that point, and so quickly. Jay was aware that I used to be very active and enjoyed playing sports (and would like to continue) so he focused on training to work towards helping me achieve those goals. Jay gives direct, straightforward feedback, and is encouraging. My workout and routines are targeted to my personal goals and physical abilities; each session is fun, fresh, and challenging. As well as giving feedback, I can see that Jay also wants to improve his training and takes on feedback and implements it accordingly. I see and feel the progress I have made and look forward to how much more I will develop. Thank you, Jay.
I've been training with Shafiq for over a month now and I have no regrets at all. From the outset, he took the time to understand my goals and concerns, and there was no hard selling or pressure to sign on with the gym. Shafiq is an extremely patient and encouraging trainer and he definitely knows what he's doing. Before starting the sessions I had some knee and ankle issues and I was worried about whether my injuries would flare up once I started gymming. Under Shafiq's careful guidance, not only have my knee and ankle pains stopped completely, but I am now able to return to intense activities like running without experiencing pain. I also like that he incorporated health and fitness into my life sustainably without going to extremes, so that it's realistic and easier to achieve my goals. A huge thanks to Shafiq for his patience and dedication!
Great training experience at BFit over the years with Kai in ironing out bad injuries and getting back to full fitness.
I get injured a lot and Balli always has the right treatment for me. He even provides tools for the long term that has allowed me to get back to playing football pain-free. I cannot thank you enough!!
Good physiotherapy